Emmanuel Macron promises ban on fake news during elections
janvier 6, 2018
---
Emmanuel Macron promises ban on fake news during elections
French president warns democracies are under threat as he sets out plan including emergency blocks on websites
Emmanuel Macron, New Year wishes to the members of the press corps, 01/03/2017 [full transcript]
"It is you, journalists, who are the first to be threatened by this propaganda. It adopts your tone, sometimes your formats. It uses your vocabulary and sometimes even recruits from among you. Sometimes even financed by certain illiberal democracies that we condemn on a daily basis, it spreads, it becomes commonplace and it ends up playing on the confusion that we have progressively accepted.
The issue of the trustworthy third-party that you are, so essential in a democracy, is then deeply blurred and, through you, it is liberal democracy that is being targeted. There are at least two answers that we can give and that I wish we can give collectively in the coming year.
It is up to the State to bring the first response. That is why I have decided that we will change our legal framework in order to protect the democratic life of those false news. A bill on this issue will soon be introduced. During the election period, contents on web platforms, will no longer follow the exact same rules. As you know, powerfully spreading false news on social networks today requires only a few tens of thousands euros and can be done in complete anonymity. The platforms will thus be subject to increased transparency requirements on all sponsored contents in order to make the identity of advertisers and those who control them public, but also to limit the amounts spent on such contents. It is an essential correlate with the rules we have set for our democratic life and our political debates.
In the event of dissemination of false news, it will be possible to refer the matter to the judge through a new summary proceedings ("action en référé ») allowing, where appropriate, to delete the content in question, to discontinue the site, to close the user account involved, or even to block access to the website.
The powers of the regulator, which will also be profoundly rethought during the year 2018, will be increased to combat any attempt at destabilizing by television services controlled or influenced by foreign states. This will allow the redesigned Higher Audiovisual Council (Conseil Supértieur de l'Audiovisuel, CSA hereafter) among other things to refuse to conclude agreements with such services by taking into account all the content published by these services, including on the Internet. This will also enable the CSA, in the event of action likely to affect the outcome of the election taking place during the pre-electoral or electoral period, to suspend or cancel the agreement.
If we want to protect liberal democracies, we must be strong and have clear rules. This new apparatus will involve a duty of intervention on the part of technical intermediaries in order to quickly remove any illegal content brought to their attention. The content of this text will be detailed in the coming weeks. Its preparation will be important because none of the freedoms of the press should be called into question by this text and your views thereupon will be very important in this respect and consultations will be planned to that end.
Beyond that, it is clear that we must continue the platforms and broadcasters on the Internet to take greater responsibility, because they cannot continue to mix all categories of information and, as we have begun to do with terrorist propaganda, must be held accountable for all the forms of intervention they convey.
But the second essential type of action depends on you. I know that many of you think about deontology of profession of journalism and the approach of Reporters Without Borders, consisting in inventing a form of press certification of the press institutions that respect the deontology of the profession, seems not only interesting but also desirable. It is your responsibility to organize, to some extent, the rules of your profession if we do not want that everything is equally valid and that no hierarchy can be made. The time has no doubt come for your profession to unite around strongly reaffirmed principles in a time of democratic fragility, and I sincerely hope that 2018 will be the year of this substantive debate, because not all words are equal and because there are even words that are neither journalistic nor innocent, but propaganda and political projects that are harmful to our democracies."
Emmanuel Macron – 01/03/2017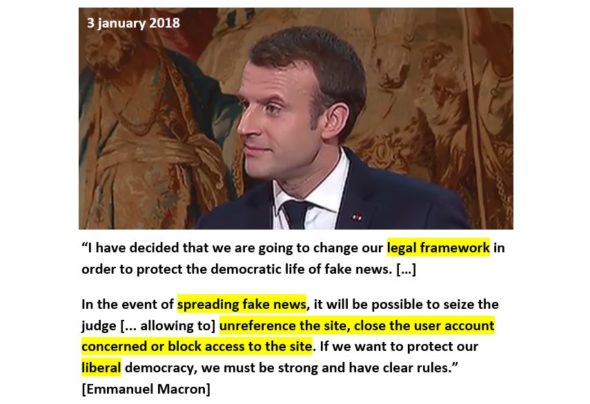 Source link